Company Profile
Xpackt is a full service organisation in de field of Specialty Packaging Solutions. We work in a multi disciplinary way, leaning on many years of experience, on good, creative people, an international portfolio, a worldwide network of production partners and suppliers and a level of expertise that reaches from concept & design, till production and even assembly and distribution.
Specialty Packaging
Packaging has become an integral part of your product. Packaging communicates the products brand identity, visualizes the brand values and has a massive impact on the perceived value that the consumer experiences with the product.
With Specialty Packaging as our core business and leaning on specific knowledge of materials and production techniques, Xpackt operates as a knowledge centre and we can manage your projects on a turn key basis
Xpackt operates fully independent in concept, creation and production. We execute in a transparent way, in a well structured process with clearly defined deadlines and decision points, as an extra guarantee for; R.O.I, quality and delivery.

Customers and Prospects
Our customers are well known national and international organisations who periodically or on a one-time basis develop actions and campaigns to further build on the perceived value, and positioning of their unique product or brand. 
Products and Markets
As a supplier of Specialty Packaging solutions, we have build a strong expertise in different applications and materials such as : plastics, metal, carton & print and combinations thereof. Our projects can both constitute out of bigger production series as well as smaller projects with a specific promotional character. We further are fully equipped to develop, produce and supply your POS materials, Gift & Loyalty cards and Brochures & Flyers.

Xpackt has a strong presence in the following markets : 
Media & Entertainment
Food & Liquor
Health & Beauty
Promotional
As a result of our expertise, pro-active approach and transparent communication we are able to translate and visualize your specific demands and exceed your expectations.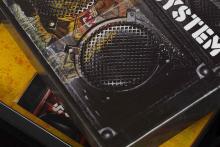 Supply Chain focus
With a strong focus on supply Chain on one hand and a well defined process on the other hand, we are able to realise significant savings for our customers. By being involved in the early phase of the process, we can develop options and concepts that will lead to solid and responsible decisions toward the final direction.