Concept & Design
Two-thirds of all purchase decisions are made at the point of sale. Whether it's a calculated decision or an impuls buy, the physical look of the product's package is frequently the sole reason for a product's sale. The packaging design is a vehicle in the competitive challenge of communicating product differentiation, and to establish perceived value and re-enforce the brand identity. The packaging design must visually stimulate interest and affect a consumer's purchasing decision in the blink of an eye.
Other than the marketing values of the packaging design, the design criteria also need to be looked upon through the eye of operations. The supply chain handling needs to be observed as well as budget, manufacturability and time lines.
With all of these different criteria, the competitive retail environment, and constantly changing consumer behaviour, packaging design does not stop at the creative process but has evolved to specialist profession.
Xpackt's communication and design team consists of seasoned professionals who work hand in hand with our customer's marketeers, productmanagers, and operations team, and have a proven track record in different industries in creating successful brands and designs. 
The Design Process
The design process typically starts with one or more brainstorming / ideation sessions seeking for answers on the following questions :
Who is the consumer ?
What environment will the product compete in ?
What price point will the product be set at ?
What is the time frame from design concept to market ?        
Whether the Xpackt team will deliver the design or whether we work with the customer's communications and marketing department, the packaging design objectives must be clearly defined and must be directed to :
Feature the unique attributes of the product
Strengthen the aesthetic appeal and the value of the product
Maintain uniformity within the brand's family of products
Strengthen the differentiation between product varieties and product lines
Explore the use of new materials and develop innovative structures to reduce cost , be more sustainable, or increase functionality.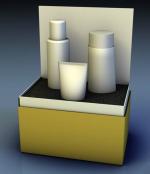 Industry research has proven that the top four attention grabbers on a packaging design are color, physical structure or shape, symbols and numbers, and typography.
Based on the final design criteria, we turn these criteria into a number of preliminary design options in order for the customer to narrow down towards a final design.
The following part will be commissioned along with the final design :
3-D production files
Protoype if requested
Production time line
Product / quality specifications
Packaging Specifications